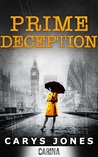 Prime Deception
by
Carys Jones
My rating:
4 of 5 stars
After not really knowing what to expect from this book after reading previous reviews (was it a romance or a crime suspense?) I was pleasantly surprised. To me, there was no doubt that this is a romance, albeit one shrouded in mystery and intrigue.
I really sympathised with Charles, although hated that I did, as he was the pivotal key to everything that happened. I didn't struggle with the lack of political references. To me, there were enough mentions of the role he had to play in the government and it didn't worry me that this was never covered in further detail, indeed, it may have detracted from the story too much if we had been bombarded with political references on every turn of the page.
There were a few niggles for me. The first was the constant switch of POV. Sometimes there were quick bursts from a character, and then we slipped back to another. Occasionally I became a little lost and had to reread to grasp whose POV I was in. Perhaps some sort of visual break would have made these switches easier for the reader.
Secondly the backstories. I found these really repetitive as every few fifty of so pages the same thing was said only in a different way. A lot of this could have been cut.
And thirdly. I think Carina have let Carys down on the editing support they gave her. There were distracting typos in my kindle edition, and several areas that in my view could have been tightened.
Even with my little niggles I still really enjoyed this book, galloping through the pages wanting to know how things were going to end.
If the editors had done a better job then this book would be a definite 5 stars, but I felt I had to drop one due to the niggles I just described.
Carys is a good storyteller, and I shall definitely be heading over to read her other books, and hope they are as gripping as Prime Deception. If Carina have edited her other books, I hope they have tightened their procedure to help make Carys's writing shine as much as it deserves!
Melody
View all my reviews